Protect your premises and the health of occupants with pigeon control in Oldham.
For a comprehensive pest control service in Manchester contact Pro-Kill Environmental.
One of the banes of summer can be resolved with insect removal in Stretford.
If you are looking for a professional pest service in Manchester, you'll be pleased to discover that Pro-Kill Environmental is among the leading pest control service providers in the UK.
You may want to consider bird proofing in Manchester if pigeons and other birds are becoming a nuisance.
When it comes to tackling pest prevention in Crumpsall there is only so much to do at a personal level. This is where Pro-Kill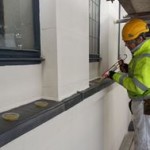 Pro Kill Environmental offers quality insect control in Heywood.
Speak to the specialists about pigeon control in Altrincham if these pesky creatures are causing a problem.
We have heard it said our homes are habitats for bugs so domestic pest control in Crumpsall is critical if we don't want our home colonised.
Bird proofing in Blackley becomes necessary when certain species get out of control.